After valiantly battling brain cancer for over four years, Rose Champagne passed away on February 6, 2008. Her family has requested that this Web site remain active, as a memorial, an inspiration, and a source of guidance for the Middle Eastern Dance community.
Rose's obituary can be found here: Rose's obituary at MassLive.com

There is also a Guest Book linked to her obituary, with reminiscences from family, friends, and students: Rose's Guest Book

A special fund-raising Middle Eastern Dance show will be held Friday, MArch 14, 2008 at the Clarion Hotel in Northampton, MA to raise money for the local VNA Hospice organization, which provided Rose and her family with much assistance and support. Details can be found here: Clarion Show March 2008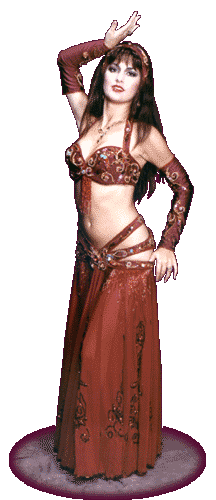 My mission as a performance artist is to show my heart and soul through dance and to make my audience feel alive. I hope to awaken the spirits of my audience and transport them to a peaceful yet emotional place far away from mundane life. My dancing is a celebration of life and because life is not scripted, I rarely choreograph my performances. I perform for Ethnic people who long for a piece of home as well as for Americans with a thirst for the exotic or cultural enrichment.


My commitment to this dance keeps me in the classrooms of professional world-renowned dancers. I will always be a student as well as a teacher, constantly learning and teaching. My mission as a teacher is to give a solid foundation of authentic movements so that the student can later chose a specific style to apply the basics to. By teaching, my goal is to inspire people, to introduce fun that keeps you fit, and to produce smart, skilled and ethical professional dancers. Students can demonstrate their achievements in the Jewel of the Valley student recital I hold for them two times a year.


This dance gives permission for personal expression in a way that frees the soul. It is the most rewarding experience to encourage people to express themselves beautifully and then see them transform like butterflies. I especially love teaching young people partly because I hope they will experience the dance as positively as I had as a teenager. Coming of age within the Middle Eastern dance community was an experience that encouraged a healthy self-image, as I grew up amongst supportive adult women and learned to control my body at a time when it seemed out of control. Discovering and practicing this within a society that grossly objectifies youth was one of the pieces of my life that empowered me and helped me to find myself.
Transformation can happen at any age. Many people come to my class with a negative issue that is dissolved when the power of this dance and loving community accepts them as another dance sister. Lots of people come just to have fun and get fit and then find they are a part of something bigger than just exercise or socializing.