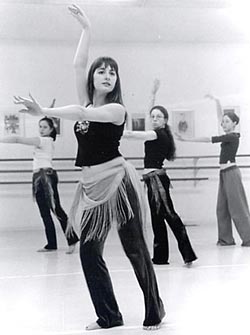 After valiantly battling brain cancer for over four years, Rose Champagne passed away on February 6, 2008. Her family has requested that this Web site remain active, as a memorial, an inspiration, and a source of guidance for the Middle Eastern Dance community.
No further classes will be offered. Listed below are descriptions of Rose's various class level offerings with descriptions.

BEGINNER Class Description
Explanation of the basic position, basic isolations, veil dance, zill dance, freestyle and choreographed dances. The combinations have little weight shift or counted weight shift. The focus of this level is to learn the basics. Beginner level classes should be taken repeatedly until you have mastered all of the moves listed on your beginner hand out. The combinations, movements, and explanations are changed per course to keep classes new for repeat students. This class is great for someone who wants to learn for the fun of it, for exercise, or to create a good foundation for the rest of her belly dance journey. No experience is necessary.

Beginner 1: Basics and combinations
Beginner1A: Hip Dance
Beginner 2: Veil and combinations
Beginner 2A: Veil Dance
Beginner 3: Zill rhythms and combos
Beginner 3A: Zill Dance

Full Beginner course completion takes 48 weeks. You can take the beginner classes in any order and repeat them as many times as you like. You can also take a beginner class and advanced beginner class at the same time.
ADVANCED BEGINNER Class Description
Traveling combinations with texture, transitions, weight changes, directional changes, zills and veils, how to do a drum dance, pops-locks-shimmies, 9/8 Karshlama (with skirt) and freestyle skills with the zills and veil. This class is great for the dancer that no longer needs a breakdown of the basic movements and is ready to put moves together to begin dancing. Prerequisite of Beginner 1-3. It is ok to take this class and Beginners at the same time.

Advanced Beginner 1: Dancing with texture (Chifti & floor work)
Advanced Beginner 1A: Freestyle dance with variety
Advanced Beginner 2: Drum solo techniques and improvisation
Advanced Beginner 2A:Adam Basma Drum Dance
Advanced Beginner 3: 9/8 Karshlama Rhythm
Advanced Beginner 3A: Fantasy gypsy, or Rom dance

Full completion of Advanced Beginner takes 48 weeks. You can take Advanced Beginner classes in any order and repeat them as many times as you like.
INTERMEDIATE Class Description
In this course we study the many more parts of the belly dance routine such as freestyle skills, layering, new rhythms, prop use, balance, listening skills, veils & zills, taxime & shimmy, and choreography. This class is great for the die-hard dancer who has refined the basics and is ready for a challenge. Prerequisite: Advanced Beginner 1-3.

Intermediate 1: Saidi, Cane & Balance
Intermediate 1A: Cane dance
Intermediate 2: Popular Arabic Songs
Intermediate 2A: Combinations and floor patterns with props
Intermediate 3: Dynamic dance techniques
Intermediate 3A: Putting it all together and Improvising
ADVANCED Class Description
In this course we learn the remaining skills needed to perform a belly dance routine and advance your skills. Topics covered are combinations and floor patterns, layering and shimmies, improvisation skills, use of arms, rhythm study, Turkish & Egyptian routines, and choreography.

Advanced 1: Taxime & Layers
Advanced 2:Veil & Power in posture
Advanced 3:Turkish Routines
Advanced 4:Arabic Routines
PERFORMING Class Description
This class is for the student who wishes to perform, already performs and wants pointers, or semi-pros who want guidance. Topics covered are performing as a professional: the things you many want to consider while entering your community as a semi-pro, routines, creativity & problem solving, mapping music & finding anchors, understanding & interpreting music, stage presence-drama-expression. This class is usually done privately by the request of students because there are too few students to make this a regular class.
What to wear to class No shoes (unless they are hermes sandals made for dance or a soft leather slipper). If you are taking the class for fun, I suggest wearing costume pieces like: harem pants, gypsy skirts, coin belts and scarves, hip shawls, costume bras, and choli tops. There's no such thing as "too much" in belly dance. Although wearing all this gear is fun, it isn't always comfortable. For comfort's sake, I would mix costume pieces with workout wear such as: leggings or stretch pants, tank tops, snug tees, crop tops, or leotards. For the serious dancer: Wear snug fitting clothes so I can see that you body is aligned and moving correctly. Dress in layers during the winter.
Click here to jump back to the top of the page