STUDENT INFO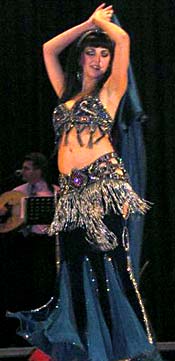 The following information is for the dancers participating in the show.
COSTUME REQUIREMENTS
Everyone should have a caftan. They are very easy to make. It is a dress that we wear as a cover-up or robe to conceal your costume when you are not performing. It is not acceptable to be mingling in a two piece costume where a lot of skin is shown, nor should you draw attention to yourself when other people are on stage performing.
Don't forget to....
1. Buy tickets for your guests.
2. Order your video or DVD.
3. Get your name on the sign up sheet.
4. Get a cover up.
5. Print out directions to the show.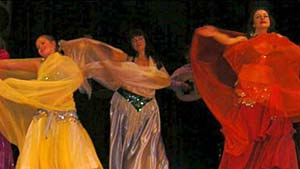 PREPARATION
This is a family-friendly event. Do not wear a plain store-bought bra as a costume or wear sheer skirts or harem pants alone. Layer so that your panties are not seen when you are dancing under strong stage lights. Bring safety pins to secure your costume and a cover up that conceals your entire costume. Slip on shoes and bottled water will make your evening more comfortable. Even though there are mirrors in the dressing room you should put your make up on at home. Then put the finishing touches on at the school. Bring water.
Before you leave for the show:
1. Eat and drink well.
2. Relax and remember how much you love to dance.
3. Pack your: cover up (caftan), costume, accessories, Props, make-up, safety pins, dance shoes, slippers, water, a light snack, tickets, and directions.
4. Arrive on time, park in the parking lot D then meet up with your group and prepare for your one shot on the stage.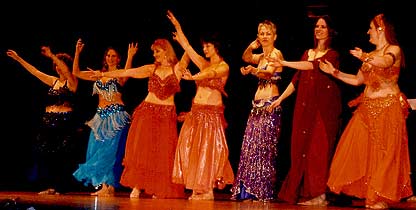 During the show:
1. When you enter or leave the auditorium you must be wearing your caftan and don't walk in front of the videographers or photographer.
2. Be back stage ready to perform 2-3 dances before you're up and listen to or help stage volunteers.
3. Be organized and calm.
4. Offer to help if you can.
5. Encourage your dance sisters.

After the show:
Take home everything you brought with you.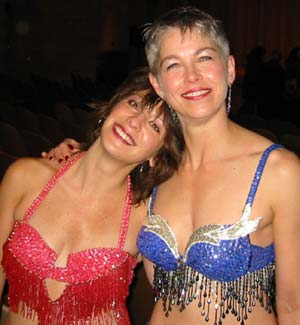 THANK YOU PERFORMERS!
Thank you to everyone who will be performing in this year's show. It means a great deal to me that you have enjoyed learning this dance as much as I enjoyed teaching it. Thank you for your hard work and your courage to express yourself through dance. I hope you discover what a great experience it is to perform for so many loving family members and friends.
A VERY SPECIAL THANK YOU TO OUR VOLUNTEERS
We couldn't have this special night with out your help. Thanks for help in making this night a success! Thanks to Greg, my honey for taking tickets, Chris for emceeing, you for stage managing, Rob for playing our music, Pam for reviewing the show, and you for curtain pulling.
AND A SUPER SPECIAL THANK YOU TO OUR GUEST ARTISTS!
Geena Ghandour & Jim Boz