Troupe Anjum: a story of coins, canes, margaritas and destiny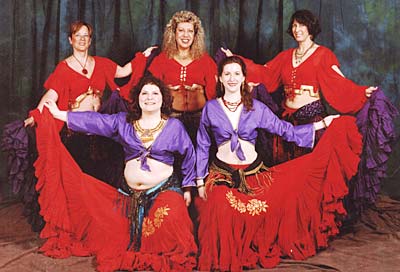 In the summer of 2000, two friends, recent college graduates, were trying to think of a way to add some fun to their new, less-than-thrilling adult lives. Nearby, two sisters and a friend were trying to think of a way to add some excitement to their established routines. That September, these five women, and twenty others, found themselves enrolled in a beginner's belly dance course at Holyoke Community College, taught by Rose Champagne. We didn't master the moves instantly (as we might have hoped), but we fell in love with the music and our glittering hip scarves. We also loved to think that, someday, in the distant future, we would be able to dance half as well as our teacher, Rose. It was enough to convince us to sign up for the next class session.
Due to a scheduling fluke, we were the only five students able to register for the course. And for the next several months, it remained the five of us. We learned a veil dance and a beledi. When we weren't dancing, we were laughing. Over margaritas at our new hangout, On the Border, it was discovered that four or us had graduated from the same high school and that all of us had either been in band or chorus growing up, giving us, if nothing else, a certain sense of rhythm.
As our bond strengthened, so did our commitment to belly dancing. We met on our own for extra practices, bought more CDs, chose dance names (Zivah, Elisheva, Shiraza, Mahira and Asha, respectively). And we bought costumes for our first Jewel of the Valley show in May 2001. There was some nervousness, perhaps a touch of panic, that spring evening. Our coin belts jangled as we paced, convinced we all had simultaneously forgotten our two choreographies. Regardless, we made our way to the stage when the time came, fluttering our veils and moving our hips for our friends and families. We came off-stage both exhilarated and terrified.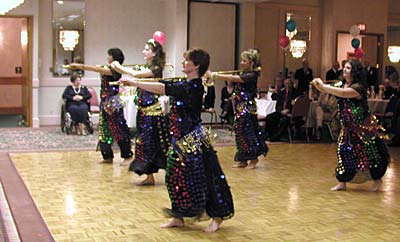 The formation of Troupe Anjum came in December 2001, a few months after we had officially become a private class. We had just mastered our third choreography when Rose received a call from the organizers of the First Night festivities in Northampton, MA. They needed someone to fill a fifteen-minute time slot between a group of adolescent flutists and some yoga dancers; did she have any interested students? When offered the opportunity, we accepted, with enthusiasm, and ambitiously decided we were now allowed to call ourselves a troupe. We chose a name (Anjum, meaning "stars") and caused quite a stir at the Sears Portrait Studio, where we headed for last-minute publicity photos. Shiraza, who knows everybody, even arranged for us to perform at an Agawam Rotary Club luncheon by way of a dress rehearsal. First Night contained all of the exhilaration and none of the terror of our previous performances. Troupe Anjum was here to stay.
In spring 2002, the troupe started learning what we still consider our favorite dance: raqs al assaya, the cane dance. The humor and high energy that power the dance perfectly complement Anjum's personality.It also allows Zivah to use her natural balancing abilities as something more than a cool party trick. You will rarely see us perform without our canes. Try to imagine a Frank Sinatra concert that didn't include "My Way" and you'll understand.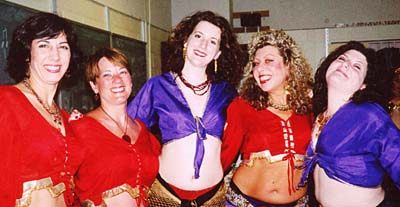 And so it goes. Troupe Anjum goes wherever we are welcome, be it high school reunions, holiday parties, benefits at the St. Catherine of Siena Parish Center or opening for musical acts at the Agawam Summer Concert Series. Like most amateur troupes, we are quite popular on the nursing home circuit, where we've been surprised by how much we enjoy dancing for, and winking shamelessly at, our elderly audience. We continue to develop our repertoire, cycling out beginning dances and mastering new skills, be it playing the zills or managing the ten-yard skirts essential for the karsilima.
Most importantly, Troupe Anjum gives us joy and purpose. It has carried us through marriage and divorce, promotions and unemployment, disappointment, death and healing. We will continue performing as long as the dance (and Rose!) will have us. So keep your eyes open for the twirl of a cane and your ears open for the sound of women laughing.