After valiantly battling brain cancer for over four years, Rose Champagne passed away on February 6, 2008. Her family has requested that this Web site remain active, as a memorial, an inspiration, and a source of guidance for the Middle Eastern Dance community.
Rose's obituary can be found here: Rose obituary at MassLive.com

There is also a Guest Book linked to her obituary, with reminiscences from family, friends, and students: Rose's Guest Book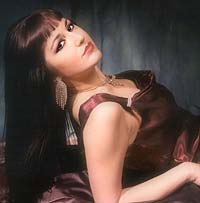 Rose is an accomplished professional performer, choreographer and instructor of Middle Eastern Dance; artistic director and coordinator of the Jewel of the Valley Middle Eastern Dance Show; dance troupes Anjum & Sahibat; and co-producer of the monthly Belly Dance Shows at the Clarion hotel. With over 10 years of experience in performing and teaching, Rose Champagne has been a top performer and teacher in the New England area. Her performances are sought after by prestigious organizations, restaurants, clubs, and individuals who enjoy her elegant and inspired performances.
After four years of training Rose emerged as a performer in 1996. Since then she has been a featured performer in clubs and restaurants. Past engagements have been weekly performances for the Eastern Star, three years as the house dancer for Cafe Lebanon in Springfield, MA and she has danced at just about every venue in MA. and CT. Memorably, she has performed at the Foxwoods Casino, Mogegan Sun Casino, Boston Museum of Fine Art; the Springfield Museum of Fine Art; the Iron Horse, The Academy of Music, in Northampton, MA and the Eastern Tides theater show all locations have had Rose back for future dates. The largest event she has performed was at Mondial des Cultures de Drummondville in Canada for an audience of 5,000. She is an alumni of the Crescent Dancers & Ahmet Luleci's Turkish folk troupe Collage International.
Here is what people have to say about her performances:
"Out of all the belly dancers I have dealt with, you are the most professional, organized, beautiful and know your stuff.. you are an absolute "10"and I get compliments from all the jobs that I hire you for." - Agent 8/8/06

"Rose Champagne ... is a beautiful dancer with a remarkable story. She is definitely a dancer to watch in the future." - Monique Monet of www.Phillyraqs.com 11/19/05

"Rose…is a wonderful teacher, superb dancer, and I think dancers can learn a lot from her… She has a lot to give. People like watching her dance because her execution of the dance is so lovely and so precise. Its like watching a firefly dance in perfect harmony with the songs of the insects on a hot summer's night." - Shalimar of www.bellydanceconnecticut.com 1/22/04
The demand for Rose's teaching has been so great that she often holds up to 13 classes per week. She has been invited to every New England State, New Jersey, California, and Canada to offer one of her many workshops. Rose is often hired by colleges for workshops and contributed to the Central Connecticut State University's play on the Arabian Nights. Her passion to share what she knows has earned her a reputation for transforming students into professional performers. As a teacher, Rose's skills are best expressed through the remarks of her students. Rose prides herself on sharing everything she knows, not with-holding any of the secrets of Oriental Dance.
Here is what people have to say about her workshops and classes:
"As a beginner belly-dancer three years ago, I was thrilled to find Rose as a teacher. Her style of teaching and breaking down the moves step-by-step helps me to visualize and then actualize doing them myself. Rose has a sense of humor in class with her analogies and little visual cues that clearly explain the movement she is teaching. Rose is a teacher for all ages and abilities which makes me feel comfortable to pursue a new and important passion in my life." - Rabiah of www.sahibat.com 1/21/05

"Every one of Rose Champagne's belly dancing classes are inspired. And while the primary motivation is to learn to dance—and dance you will--you will find yourself feeling empowered to own and love your body. I felt myself getting physically and spiritually stronger. In a society that continues to objectify and exploit women, Rose's belly dancing class builds self-confidence and pushes us to reclaim our bodies and our sexuality. From the physical to the spiritual, with depth, meaning, and heart, Rose's class will have an impact on who you are, while bringing you incredible joy and pleasure!" - Nisa Zalta 2/22/05

"Thanks for an inspiring workshop. I have enjoyed watching you grow from a bright, talented young woman just starting as a really good teacher, into a brilliant, talented, gorgeous woman full of heart, who is a leader and an inspiration to women of all ages. Here are some thoughts from last night. *Beautiful, confident, knowledgeable teacher puts students at ease and helps them get over their discomforts/fears just by modeling, coaching and keeping a balance between learning and playing, left brain, right brain. Always genuine. Getting silly when students are getting too serious/discouraged. "Gets" the spiritual part and shares it without preaching." - Karen Traub of www.crescentdancers.com 12/13/05

Rose's popularity continues to grow as she follows her dreams. In spring 2003, she was nominated for Zaghareet magazine's Best Kept Secret Award and then was diagnosed with Brain Cancer July 1st. As soon as she was able to get up and dance again, she did. Not yet free of cancer, in the summer of 2004 she joined the Belly Dance Superstars as the featured dancer in Boston. She celebrated her recovery from brain cancer by producing the most extravagant Jewel of the Valley show ever in November 2004 where she announced the good news. Rose wishes to continue honoring her recovery by conducting workshops in order to raise money for cancer research. Since 1997 Rose has made a full-time career out of her teaching. Her mentors encourage her to grow more on a national level. Currently, she is teaching in numerous locations and performing regularly at haflis, private functions and fulfilling public appearances at Pintu's Indian Palace in West Springfield, MA and at Byblos Restaurant in Norwood, MA.
More quotes can be read on the press page.
As an event sponsor, Rose believes it is a teachers responsibility to offer a place for students to present their new found skills in a professional setting that welcomes the performance of all levels of dancer simultaneously educating the audience. The Jewel of the Valley Middle Eastern Dance Show was founded by Rose in 1997 and started as a semi-annual event. The recital/show regularly sold-out it's 300 capacity theater to standing room only. In 2003 the show was reduced to a yearly event that is anticipated by Rose's committed students. Here is what some say about their experience:
"Thank you for a great show last night. I wanted to tell you all the things I really liked about it. I loved the venue--the auditorium was really very nice, and the stage too. I was the first one to arrive, and the man in charge was very nice, helpful and professional. The dressing room was awesome with those mirrors! And we really had the chance to rehearse with all that space. It made a difference in our confidence and accuracy. The announcer was fantastic, and I loved that the background of the dances was described. The length of the show was perfect. My 9-year-old and 6-year-old friends did well with the length of it. The fact that you had us all in the planned coordinated costumes made it feel really professional and boosted my confidence. I loved the dances I was in, especially the Oriental Rhythm Medley--I am nuts about that dance. I love the opportunity to dance your choreography. The whole show was beautiful...Thank you for all your work. It is amazing how much you do." - Joanne 11/20/06

"I am in your beginners class. I just wanted to say thank you so, so much for being such a great teacher. You are such a great inspiration! I have wanted to learn how to belly dance for so long, and you have given me that opportunity. I also wanted to thank you for putting on such a great show this weekend, and giving us the opportunity to perform and show everything you have taught us." - Lenae 1/20/06

"I had an unbelievable time dancing on stage for my first but not last time." - Linda 11/20/06
Rose has collaberated with other dancers on a number of events, hosting the big names from over seas as well as the locals. In 2005 she was asked to work together with local dancers Shifah & Ismalia to in their Belly Dance Shows at the Clarion. It is a night of Belly Dance in an elegant venue by dancers for dancers and the general public. Performances by professionals, semi-professionals and troupes can be enjoyed with an optional buffet, social dancing and vending. Here is what one die-hard dancer had to say:
"I just wanted to take a moment to thank all of you for your hard work with the Clarion and the shows you put on there. It is such an amazing venue for people to come together and share the dance. I know it's a lot of work to put on these events and your ability and willingness to provide this great event is greatly appreciated. I feel honored to be part of such a great dance community and to bring my friends into the folds of the fabulous work you do." - Robin (Rabiah) www.Sahibat.com 11/11/06
MY PATH TO THE DANCE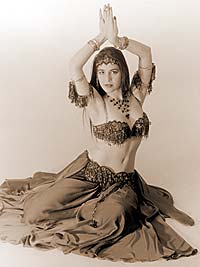 The previous is my professional bio, here's a little bit of my personal story that lead me on my path to becoming a professional full-time dancer.
My interest in Middle Eastern Dance was sparked in 1992. As a teenager I was not interested in the usual, such as "top 40 music" and I searched for new and different sounds on college radio stations. I discovered world music and was particularly drawn to the music of the Middle East.
I was always out dancing to live music as often as I could get away with it. As my love for Middle Eastern music grew I wondered how I would dance to this music and then began a search for a teacher. I found a student at a nearby college who was teaching a few women in a private class of four. When she graduated, she referred me to my primary teacher, Joanne Tebaldi (Shifah), who I studied with for four years until I completed her course offerings. She gave me an excellent foundation and repertoire combined with an approach to dance that was grounded and spiritual.
During my years under Shifah I grew amongst wise, beautiful and supportive women. We shared our dance at each other's parties, performed for the elderly and for fundraisers. As a young student, it was a deeply meaningful experience that fit my beliefs and supported a healthy way of living that refused ageism and sexism.
During the end of my studies with Shifah, I was asked by a couple of beginning students to teach them the basics of the dance. I was not sure that I could teach, but because of their interest and the lack of classes offered for beginners, I agreed to a private class. Through teaching them I discovered it was really fun and they were doing very well. Soon after, my teacher had asked me to co-teach a class with her. Today my first two students are professional performers and I have been teaching for eight years. That is how my path into this dance began.

When exactly I began performing professionally is a little foggy. It may have been 1996 that my teacher had created a venue at the Eastern Star and had me get up to dance with her during one of her shows. She had mentioned having me as a performer there and the idea scared me to bits. I knew there was no way I could dance with out exposing my soul. I took a good look at all that Shifah had inspired in me through her teaching and artful performing. I concluded that it was an honor and I wanted to do for others what she did for me.
I chose to bravely perform regardless of my fear of being objectified. The beauty of the dance was far too important to me than the confusion of a woman's role in society and confusion about the dance itself. I chose to follow my heart and demonstrate this sacred dance, confronting the stereotypes and educating my onlookers. That was some years ago and since then, much has changed in my performing. The super modest teenage dancer is now a woman with a much more full and rich life experience that can be seen within my dance.
Below are pictures of a few of my students who have gone on to become professional dancers.

Leslie
PHOTO BY KATE WOOL

Debira

Maya

Ayana

Elyse