Review of the 12th semi-annual Jewel of the Valley
By Pam Renaud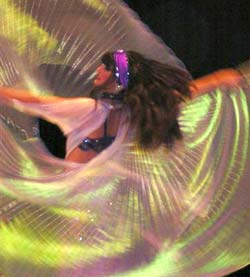 Western MA-based Rose Champagne set an ambitious agenda for the most recent installment of her semi-annual Jewel of the Valley student show. Every performance was to be to live music. I entered Easthampton's White Brook Middle School to find a gaggle of friends and families of Rose's large and loyal coterie of students in happy anticipation, many carrying bouquets of flowers to present to their own particular "Belly Dance Superstar"after the show. The sounds of the popular Mitchell Kaltsunas Ensemble warming up in the auditorium hinted that something special was about to happen. The upbeat tone of the evening was established by Rose's warm greeting to the audience and the wonderful news that she is now cancer-free. As many of you know, Rose has been waging war on a brain tumor for the past year-and-a-half. No one would blame her if she took it easy for a bit. But no, she decided to take an interesting risk for this night. You can't say the gal ain't gutsy.
Six large groups of smiling, well-rehearsed and poised students performed Rose's choreography to music from "Mitchell Live 2003." The students practiced to the CD in preparation for the show and danced to the live version of their music for the very first time on stage that night. The word from backstage was that there were a lot of buzzing nerves over dancing to a live band, but they pulled it off beautifully. The dances were presented on a well-lit stage with a simple backdrop - an effective no-frills package of dancers and musicians - and nothing more was needed. The variety made for a well-paced evening and included swirling veils, well-played zills and some fun pop-influenced steps. I was particularly impressed by the range in ages evident on stage. There were some youngsters who looked to be about 11 or 12 years old and some elegant "women of a certain age," as well as everything in between. It is part of the delight and the mystery of this dance that it speaks to women in practically every stage and circumstance of life, as well as a testament to Rose's ability to inspire such a broad mix of women to dance. The costuming was a vivid mix of cabaret, gypsy and basic hip-tie-harem-pants-and-choli combos. I note with approval that all of the dancers properly wore caftans when not performing, evidence of Rose's high standards for her students.
Two students performed improvised oriental solos. First was Debira, looking wonderful in my personal favorite costume color, orange. Debira, who is a member of the Crescent Dancers troupe, has incredibly graceful hands, which made the slow section of her routine mesmerizing. The second student soloist was the vivacious Maya, wearing a striking gold bedlah made by Rose. One of the co-hostesses of the evening, Geena Ghandour, shared with the audience that Maya refused to wear the costume that she acquired from her friend and teacher during the dark days of Rose's cancer treatment until she was "out of the woods." It was a symbol of hope. This special evening seemed the right moment to debut Maya's acquisition and it brought with it a bit of magic, as Maya delivered a charming performance.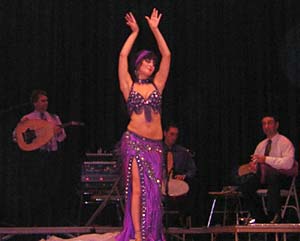 Rose herself presented two full oriental routines. She is back and better than ever; there is a new depth of expression and maturity to her dancing. Does that sound cliche to say about a dancer who has resumed her career after a bout with cancer? Maybe, but it applies in this case. Think the phoenix of legend. That was not a hard image for the audience to conjure up given that Rose is a true costume maven, this time in two spectacular numbers in teal and purple. Her strong performances featured double veil, zills, cane and her signature Wings of Isis. A highlight of the evening was when Rose's talented friend, Geena Ghandour, sang while Rose danced. It was very Cairo-nightclub-y, so very like those videos of Dina and Lucy and Aida Noor that most dancers have seen, reproduced by Rose and Geena and the band. A truly fun moment. Geena is a first-rate Arabic singer whose powerful voice blended nicely with Mitchell and his band.
This review would not be complete without mentioning the contribution of Mitchell, John Nassar, George Mansour and Tony Awad. They capably met the challenge of playing for choreographed routines for dancers who had never performed to a live band before that evening. The nuances of phrasing and tempo in music played live needed to match what the students had been practicing to on CD. It all worked. The music played for Rose, Maya and Debira was delicious as well!
The evening had polished finale as each group of students made their final bows to snippets of the music to which they had danced making for a grace note in an evening of lovely moments.
---
This review was printed in the Jan./Feb. 2005 Vol. 7, No. 6, Middle Eastern Dance in New England magazine. To subscribe go to www.bellydancenewengland.com or email helade@verizon.net There was a blured picture of Samantha, Brandi, Sue and one other dancer on the cover of the magazine.