Her belly dancing truly is a celebration of life
By Tom Shea
In the early '90s, Rose Champagne was a high school kid in Easthampton listening to college radio. Stairway to Layla on the commercial airwaves wasn't for her. The Pixies, The Make-up. Blonde Redhead rocked Rose Champagne's world back then. The Pixies still do. But what she liked best about college radio, whether it was Amherst College's student station, or WMUA, or WTCC, were the elements of surprise and discovery. "The DJ's had their own taste, and it wasn't mine," she recalls. "And it was wonderful."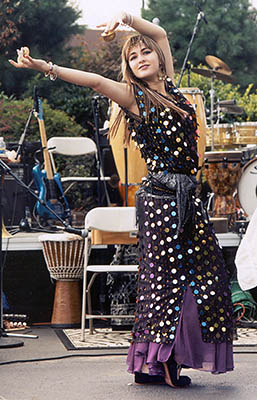 Rose doesn't remember what station played world music after the student disc jockeys signed off - "maybe they all did" - but she stayed tuned in. She found the music exotic and beautiful. Rose started searching bulletin boards and telephone polls in Northampton looking for fliers offering information about Middle Eastern or belly dancing. A friend found one. Rose started taking lessons. It was supposed to be a new hobby.
By the time Rose graduated from Holyoke Community College in 1997, her plans of attending a four-year college were put on hold. Her dance hobby had transformed into a career. A busy career as a performance artist.
It takes a couple of days before Rose has time to talk on the phone and to carve out time to meet. Rose, who now lives in Holyoke, teaches nine belly dancing classes a week, in West Springfield, Northampton and Hadley. She directs two troupes. She is planning a recital for the end of the month. You wouldn't believe how many weddings, birthday parties and anniversaries she dances at. Her reputation has been spread by word of mouth in the local Arab, Turkish and Armenian communities. She is learning Arabic ("only baby talk at this point") and is a student of Middle Eastern cultures and traditions.
Every Saturday night, she performs at Pintu's Indian Palace in West Springfield. This Saturday at 4, she will perform with one of her troupes at West Side's Taste on the Common. She will also offer a group belly dancing lesson.
"Belly dancing is an umbrella term," she says. "It's also something of a misnomer. You can see the belly. But it is mostly about the hips."
She pauses for a second. "Actually, dancing is about your heart and soul," she continues. "I view dance as a celebration of life."
Rose is now 27. She has brown eyes and shoulder-length dark brown hair with bangs and a gentle, serene nature. She looks taller than her 5-foot-7 height. Two years ago, Rose was diagnosed with a brain tumor.
In New York, taking part in a weeklong dance workshop, she was heading to a friend's apartment in Brooklyn. She felt great. The next thing she knew, she was looking up at emergency medical technicians who asked if she knew her name. Rose had suffered a grand mal seizure. It was July 1, the day after her 26th birthday. A month later, she underwent seven hours of surgery to, as she puts it, "have as much of the tumor taken out as possible." She was given no promises.
"Intense shock" is the shorthand Rose uses to describe the transition from an athletic young woman to someone facing the threat of paralysis or death. "But, I thought if this was it, I never sat on my butt, I did what I wanted to do," she says. "I taught and shared my art." Rose couldn't drive for six months. She didn't dance for a year. While she recuperated, she moved back to Southampton to be cared for by her mother. Rose kept getting clean MRIs. The cancer appeared to be gone. She returned to dancing and teaching this time last year. Rose says she has never felt better.
She shares her story because she believes it offers some hope to people in the midst of their struggles with illness. "Hope is an important healer," Rose says. "When you are sick, you hold on to hope. It is a comfort on long days. Rose has to leave the Barnes & Noble in Holyoke where we've talked. She has a lesson to teach. About the celebration of life. Though some might call it belly dancing.
---
This review was printed in the Thursday, June 09, 2005 edition of the Republican Newspaper and carried by MassLive.com. Tom Shea can be reached at Tshea@repub.com ©2005 The Republican © 2005 MassLive.com All Rights Reserved.