Review of the 2006 Jewel of the Valley
By Pam Renaud
The 14th edition of Rose Champagne's Jewel of the Valley show, featuring guest artist Jim Boz, was rolled out in the comfortable Chicopee (MA) High School Theater in the late afternoon of November 18. Friends and family of Rose's students were treated to a briskly-paced one-act production that included seven student numbers, two professional performances and a Lebanese songstress.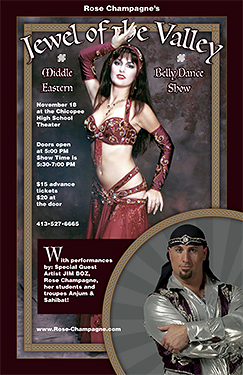 The stage was well lit with a simple white backdrop that nicely set off the mandatory coins, beads and sequins of the dancers' colorful costumes. Each number was announced over the auditorium's public address system along with informative tidbits of belly dance lore. Why are those ladies dancing with canes? The announcer's concise explanation of raks assaya made it all clear. This was a nice touch for a general audience, many of whom might never would have seen middle eastern dance were it not for a mother's, wife's, friend's, etc., newfound hobby.
Rose's students presented a pleasing variety of dances - a drum dance, a raks assaya, a veil dance, a traditional khaleegi dance, an Arabic pop number and an upbeat number billed as an "oriental rhythm medley." The choreography was well suited to each group's level of expertise, which resulted in a smooth presentation and those beaming smiles of self-satisfaction - "I did it!" - that come with the closing notes of the music. Rose's Troupe Sahibat capably performed the traditional Saudi Gulf dance to one of the most popular of khaleegi songs, "Leyla, Leyla," complete with colorful thobes and tossing hair. Her Troupe Anjum was not to be outdone. Their contribution was a peppy modern number to Natacha Atlas' "Bahlam." There is a delightful quality to Rose's JOV shows and no doubt it comes from the enthusiasm and camaraderie of her students, "jewels" all.
Debira, a member of western MA's Crescent Dancers and a longtime student of Rose, performed a veil and sword dance. This was the same number this writer noted in the recent review of the July 29, 2006, Leyla Jouvana show. A second viewing of this routine confirmed my original positive impression. It is nice to see Debira emerge as a solo performer in addition to her role in the Crescent Dancers.
Next up was Geena Ghandour, the western MA-based Arabic vocal artist best known for her work with the group Layaali. Ms. Ghandour, a glamorous presence in a black evening dress, had somewhat of a disadvantage in having to sing to recorded music, karioke style. An experienced and talented performer, she seemed unbothered by the "canned band" and proceeded to emotively deliver two Arabic ballads, including one of the oriental dancer's must-know standards, "Lissa Faker." Um Kalthoum would have approved, I think.
Rose then took the stage for a vibrant oriental solo that opened with Wings of Isis and featured a coquettish drum solo. She wore a lovely black and silver bedlah that fairly dripped with sparkling crystals. Rose has long been an accomplished dancer, but in this performance we saw more of her bubbly personality in her dancing, much like the libation of the same name. The self-assurance that comes with time and life's experience has made this fine dancer into one of our dance community's premier talents. She's a "jewel" herself.

And then there was Jim Boz. If belly dance has a Liberace, it is Jim Boz of San Diego, CA. Now hold on, that is definitely not a negative. What made the oft-maligned Liberace an enduring show-biz legend was an engaging combination of glitzy flash and self-deprecating humor underpinned by genuine musical talent. He was an entertainer who could make you laugh in spite of your own pretensions. I'll bet some of you readers know a few people who would sooner die than admit that, too. Jim Boz revealed those same qualities in his set to close the show. Let's face it, a tattooed, goateed, barrel-chested fellow in a sparkly tee-shirt and glittery bellbottoms is not everyone's image of a belly dancer. You have to have some interesting moves to pull that off and Jim Boz does have them. His oriental set was cleanly executed and nicely choreographed. A technical glitch with his music gave rise to a cheeky schtick that was so funny that one might suspect it was planned. Hmmmm.... While the DJ was sorting out the problem, Jim Boz tossed out a wisecrack and then got each side of the auditorium to alternate a simple hand clapped rhythm pattern that included a triplet. When everyone got into the groove of the clapping, Jim Boz turned away from the audience and proceeded to alternately jiggle each side of his coin belt to the triplets. Like I said, it was "cheeky." And funny.
---